It's been a bit of a tough week, interspersed with priods of insanity (not in a good way). This morning we got up to this outside the window.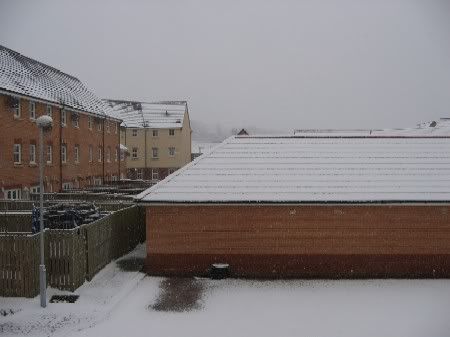 (I wish I could have posted a nice photo of snow-laden trees and hillside, but no such luck as we live on a soul-less, vegetation-free new development). It's all melted now. Winters aren't what they used to be. This is my Granny's house in about 1991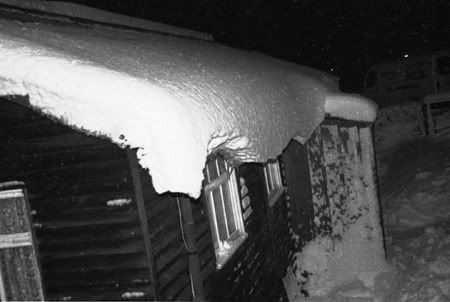 (Sorry for the poor image quality - it's a scan of a rather kinked negative.)

Today I located my copy of Mrs Beeton in one of the boxes in the garage - 1992 updated edition, bought for a fiver in the Waterstone's sale a few years ago. My OH proceeded to be immensely amused by her (or rather the editorial board's, nowadays,) advice on choosing wine, laying tables and suchlike.

I also potted some cuttings my mother sent me from the roe that grew below my bedroom window at her (old) house. Roses have always disappointed me with their showiness, but frequent lack of scent. However the rose below my bedroom window was the most fragrant I have ever experienced, so I requested cuttings. Two of the five had had it thanks to being at the mercy of Royal Mail for three days. I would have preferred to use organic rooting compound, but they needed potting fast and I couldn't get organic locally so Baby Bio Roota it had to be. I just hope they take.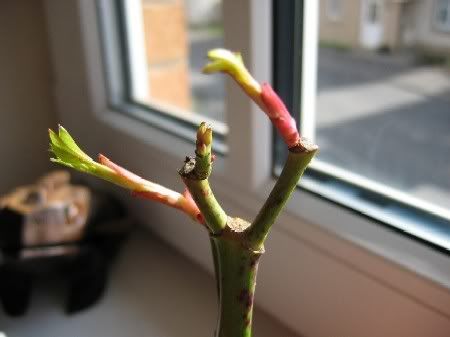 I started my blanket kit a few days ago. It's very satisfying since every square is like a mini accomplishment, and I'm being very disciplined about sewing in the ends as I go. These were the first two squares. I'm up to about six now.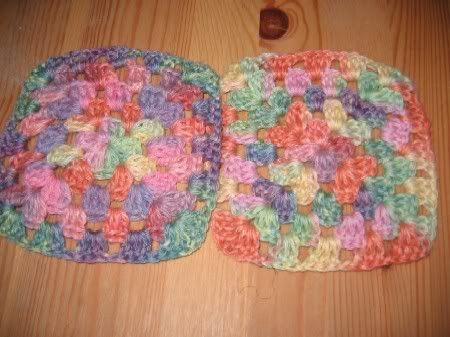 I made a quick scarf from some handspun I bought from Daniela Kloppmann FeltStudio. I really liked the way it turned out, but it's made me desperately want to order a drop spindle and some roving/batts.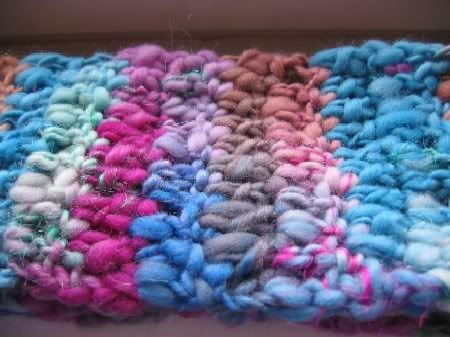 I appear to have acquired some sock yarn. I already have lots of sock yarn, but most of it is from Indie dyers such as The Yarn Yard and Posh Yarn and obviously far too beautiful to be used for socks. I don't understand the fascination for making socks - socks are functional and most of mine are plain or have flowers or other patterns on, and socks are hidden and get worn out. They're not on display, and special socks invariably lose their partners (probably to the drainage pipe of the washing machine, where they may may cause a blockage months later as they gather a protective armour of soap-scummy slime). Also, socks cost £3 for five pairs in M&S even if they are in boring black. Anyway, 'don't knock it till you've tried it' as they say, and I have acquired some Regia Sock Yarn, Kaffe Fassett Design Line in Landscape Caribbean from John Lewis even though I did get pounced on by a sales assistant who decided that I didn't look like a JL customer with my unwashed, unbrushed hair and scruffy fleece - as I said it's been a tough week (I don't shop in JL's yarn dept very often because of the recent increase in pouncing). Maybe I'll be converted to making socks yet. I just need to find a pattern that will fit my tiny feet, and good free crochet sock patterns are harder to come by in the first place, let alone for my midget feet.