On Friday, OH and I got up very early (5.30am - I don't do early mornings) to make our way to Cockermouth for Woolfest. On the way we saw... wind turbines!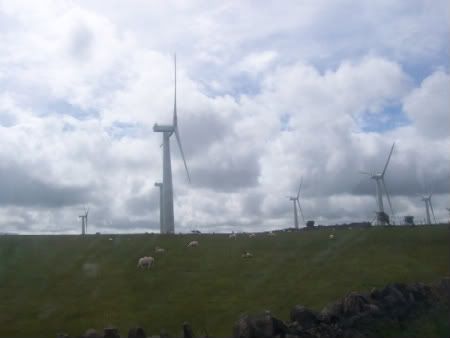 I've always had a fascination for wind turbines. I think they look graceful and hypnotic. I might feel differently if I lived near one that gave off a lot of flicker, of course.
We also saw a giant sheep!
Once inside we saw lots of useful fibre-producing animals. We especially liked a rather determined angora goat that wasn't sure what to make of the very leggy, long-necked not-a-sheep in the neighbouring pen (it was an alpaca). I intended to take photos but between general overwhelmedness and shyness about asking stallholders if I could do so, I didn't. I met a couple of Ravellers, saw plenty more but was too chicken to speak to them, and I also met Natalie from
The Yarn Yard
and Mr Yarn Yard, and Amanda from
The Natural Dye Studio
. I was really pleased about this as Natalie lives not far from me, and desite several half-formed plans to meet up, it had never happened. And I'd missed Amanda at Wonderwool and spoke to Mr Dye Studio instead. Also I participated in this: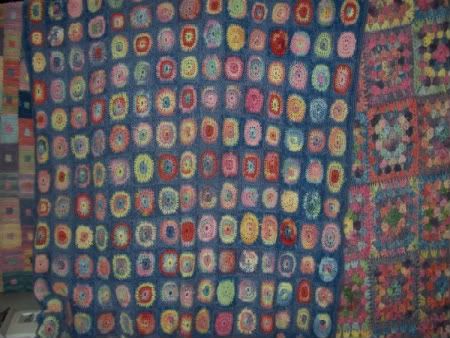 94 of the squares with circles inside were made by me.
OH and I sampled ewe's milk ice cream (delicious), attended a sheep-shearing demonstration (fascinating) and looked at lots and lots of yarn and fibre (tiring).
I spent... rather a lot of money, but didn't buy anything I hadn't intended to (so no 'what was I thinking' moments). My purchases in full:

In this photograph are the following items:
Unofficial 'I Ravelled at Woolfest 2008' bag


guanaco fibre


angora (rabbit) fibre


sheepy fibres - Hebridean, Shetland, BFL, Wensleydale, Gotland, North Ronaldsay (when little bags/bundles of fibre are £1.50-£2.50 each it's very easy to go in to pick 'n' mix mode)


fibre, a batt and some 'Lochan' (merino and tencel) yarn from The Yarn Yard (plus Natalie kindly gave me a book on crocheted socks that she didn't need)


self-striping yarn from Fyberspates


various 4-ply and DK yarns from The Natural Dye Studio


a raw BFL fleece (the smallest one I could find as I had to carry it home on the train)


a pair of small handcarders from Hedgehog Equipment


Last photos - (some of) my BFL fleece and my new spindle, which is indeed a thing of beauty (and wonderful to spin with - so much better than my cute but chunky spindle I bought at Wonderwool):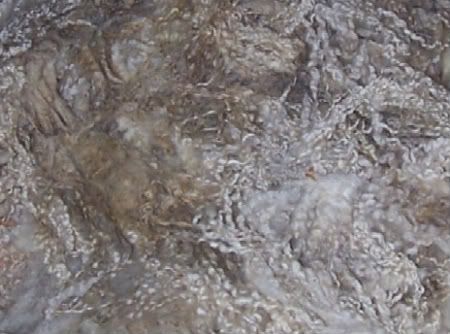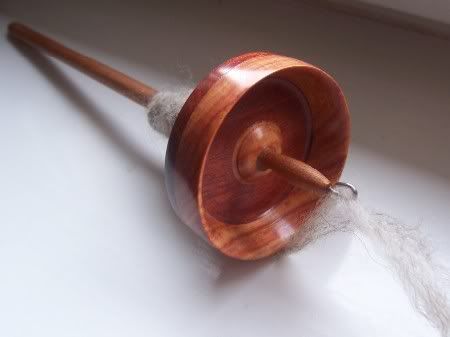 The things I regret not buying are alpaca fleece/roving, more from The Yarn Yard - the stall was really busy, recycled sari silk, hemp yarn (I got confused by the types of yarn not being marked on the yarn)... If I had another £50 and another hour of time (actually I could have had another 20 minutes if I hadn't misread the bus timetable and we ended up munching on a Gregg's pastry and getting very wet at the bus stop in Cockermouth). We were both shattered and after dinner at the Carlisle Pizza Express we were tucked up in bed and asleep by 10.30pm. We got home early on Saturday afternoon, and again had an earlyish night.
I've sorted and washed about a third of the fleece - the rest requires further sorting before I wash it. The cats love the smell of lanolin/sheep as they both spent a lot of time in the bathroom yesterday when I was soaking the fleece.
Yesterday we were starting to feel a bit less tired so went out for a ride on our new bikes - yes the last week has been
expensive
but we don't do 'holidays' as such so bikes and Woolfest were our summer treats. As it was our first proper bike ride and I haven't ridden a bike for about ten years we went for a shortish ride of about seven miles. We would have gone further but it started raining hard, and not wiching to overdo it or get soaked we came home. Of course it had stopped raining and was drying up rapidly by the time we got home.
After such a fab weekend it was a total downer that my anxiety kicked in with a vengeance last night.