A long overdue update. I won't bore you with all the details, but there has been...

dyeing: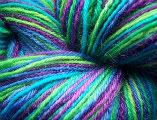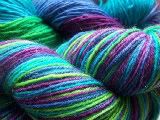 The little rose that was a bud for a day and a flower for eight hours: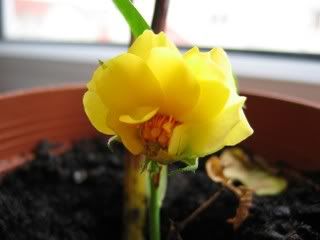 and then the whole thing died - it hadn't rooted and had obviously used every last scrap of energy to make that tiny (1 inch across) rose.
Overtwisted and tentative attempts at spinning: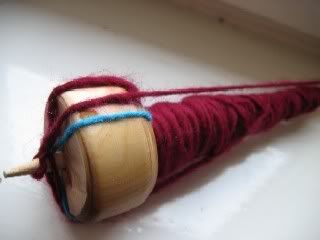 A delicious cheese fondue: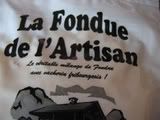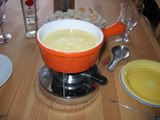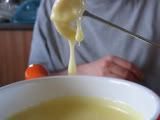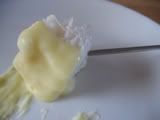 A bargainous pile of books thanks to the
Christian Aid Book Sale
: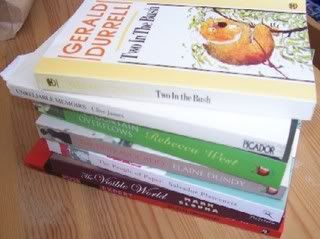 (That little lot cost the grand total of £10.50.
More secondhand books (from Oxfam this time) and yarn (that's
Fyberspates Faery Wool
on top):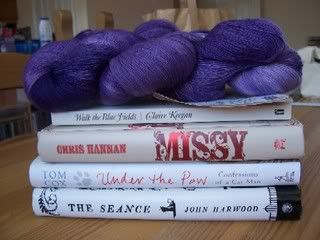 Those books were all brand new both in the sense of unread and very recently published. I wonder if there's a bookshop giving that shop a weekly donation or something.
I also love the
Virago Modern Classics limited editions
with their designer (and very feminine covers. I already have some of them in paperback, but I acquired these two (
Excellent Women
by Barbara Pym and
The Diary of a Provincial Lady
by E. M. Delafield), and
A Far Cry from Kensington
by Muriel Spark is next on my radar: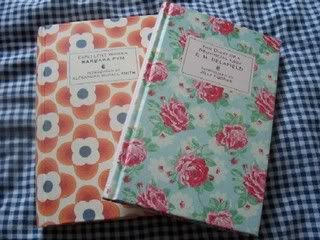 A secondhand oriental bag (from
Armstrong's Vintage Emporium
: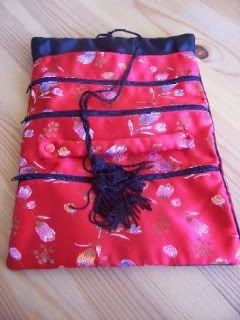 which makes a wonderful crochet hook roll: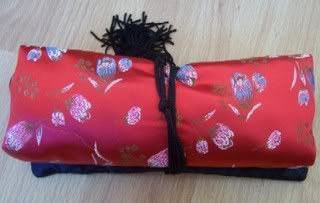 Actual crocheting has been mostly for a blanket project for Amanda at
The Natural Dye Studio
which has a time limit so I haven't been doing much of my own stuff. I have frogged my
Garden Party Wrap (designed by Kim Guzman)
as I was using Aurora from
The Yarn Yard
and although the pattern is great and the yarn is great, the result was somewhat... fussy to say the least. I think a plainer yarn (I wish I had the hard-to-find Noro laceweight that the original design is done in) for the pattern, and a plainer pattern for the yarn.
Here ends the overlong and overdue update.