I took the plunge. I've ordered a swift. That mini poncho thing I posted a picture of the other day is wonderful for wearing round the house - it's not flattering but it's snuggly and cosy and warm.

I have several/too many works in progress. Part of the point of this post is to try and motivate myself to finish the projects that are almost there before I start any new projects. I haven't got myself set up to take arty photos on a white background so you'll have to put up with the Ikea table (and occasional cat intrusion).

First, we have the Cold Shoulder capelet (from The Happy Hooker). This is so close to being finished. All it needs is the pompoms on the ends of the ties, but I'm procrastinating about that, partly because I have to wind the mohair into a ball first. The yarn is a random, apparently unbranded mohair I bought on sale from Stash Fine Yarns



Second we have my alpaca stars scarf made from purple Garnstudio DROPS Alpaca - both pattern and yarn available from Scandinavian Knitting Designs. This one is kind of hibernating at the moment as I found it took a bit of concentration, and I tend to get interrupted a lot so it became stressful.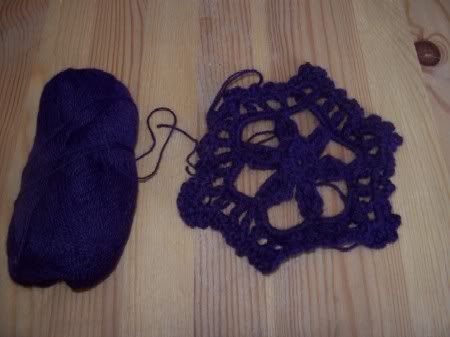 This is a meshy scarf in Mirasol Hacho. The pattern is called Monika. I'm struggling to finish this as I've found it difficult to do since I had a nightmare about it when I had a cold a few weeks ago. I've only got a row of edging to do around it now.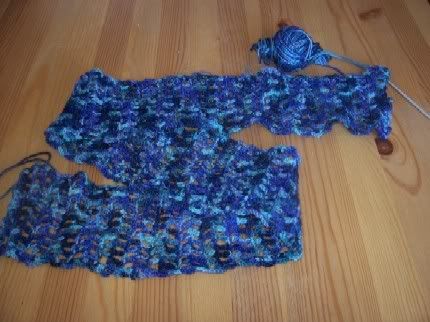 I started this sleeveless cardigan (or vest if you're American) in January with the intention of wearing it in cold weather. I whizzed through the back part, but the pattern (the Denim Vest from the Lion Brand website) is one of those ones that gives you half the pattern fro the fornt and tells you to reverse it for the other half. This has put me off a bit, as has the fact that it's going to be too small (and I'm doing it in Icelandic Lopi which felts really easily so it's not going to be very washable). If I lose the weight I want to this year it might fit next winter. The other problem is that now Lopi is just too warm to work with. It's great when the weather's cold and it's like crocheting with a wee blanket on my lap, but now it's a little warm.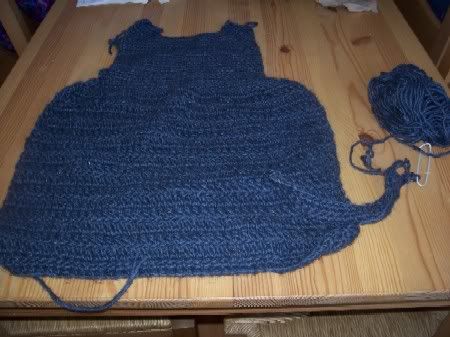 My Eva shawl, also from a link from Ravelry. I'm doing this one with a merino laceweight yarn from YarnAddict Yarns. I love this yarn, and the shawl is going well, though I've got to the point where each rown is taking 40 minutes (I folded the edges over in the photo to get it all in). It looks a lot less blotchy in reality - my camera has an annoying tendency to overemphasise blue. I'm sure I can adjust the colour balance but I have no idea how (apart from in Photoshop).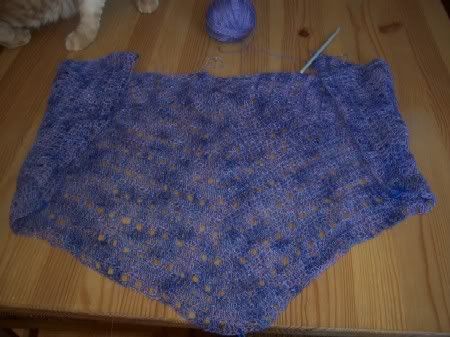 Boteh scarf from an old copy of Interweave Crochet. Another project I'm really enjoying - I'm doing it in a wool/bamboo sock weight yarn from The Yarn Yard.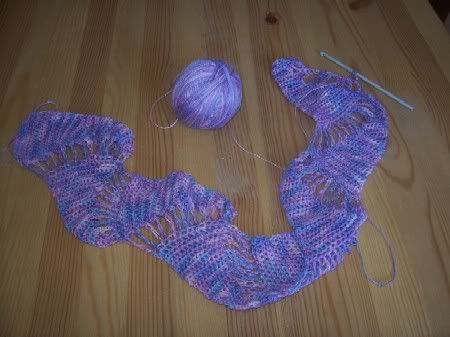 And finally, a flowery scarf in Fyberspates Scrumptious Chunky. The pattern is another one I found the link for on Ravelry. It's called Anne and is available as a cheap pdf download. This is another project I'm really enjoying.